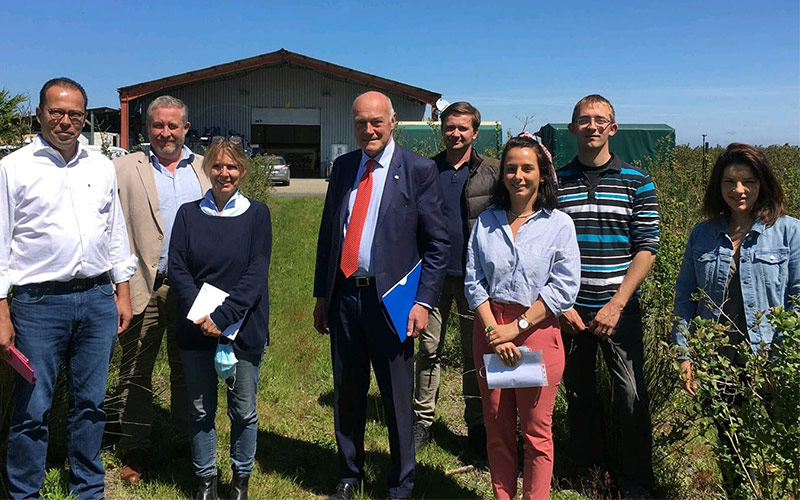 Les Jardins Bio du Médoc received Alain Rousset, President of the Nouvelle-Aquitaine region, and Guillaume Riou, vice-president in charge of the ecological transition for the launch of the 2021 blueberry harvest.  
It's time to fill up on vigor
Its crunchy, tangy taste is inimitable. With its blue color, it ranks as the most original red fruit. But the real strength of the bilberry is its nutritional quality!
The blueberry provides vitamin E, vitamin C, and especially record levels of flavonoids. These specific substances include several molecules known for their antioxidant properties: catechin, biflavans. These compounds are involved in the defense of blood vessels and promote blood fluidity, thus contributing to the protection against cardiovascular diseases. The red-violet pigments, anthocyanins, are also very abundant (400 to 500 mg/100 g) in blueberries. They are just as valuable since they potentiate the activity of vitamin C. The blueberry is an interesting source of fiber (3 to 5 g/100 g). These are appreciated by the body and ensure a regulating action on the intestines.
With only 50 kcal per 100 g, bilberry can be consumed without any moderation for a real vitality cure!
It's time to get some fresh air in the countryside
Numerous producers throughout France sell blueberries picked in their orchards locally. It is the perfect opportunity to discover how these blueberries were grown and get the best advice for preserving and cooking blueberries.
Some orchards are even open to the public for on-site picking. It is easy to pick blueberries: the basket fills up very quickly because the berries are large, and the bushes are at ground level. And unlike the wild blueberry, the cultivated blueberry does not stain! It is an idea for outgoing in the countryside, which would please young and old.
Did you know that ?
The French blueberry is from 450 hectares of orchards spread over the territory with 2000 tons of fruit picked between late May and mid-September. The Nouvelle-Aquitaine region is the first blueberry growing region in France producing more than 1000 tons per year.
The blueberry is the fruit of the species Vaccinium corymbosum which was selected on the American continent during the 19th century. It is a shrub that can reach up to 2 meters high.
The fruits are formed on a cluster (the corymb). The size varies according to the variety, as does the taste, more or less sweet and sour. The blueberry grows in very specific soils: sandy and acid. The Médoc and the Landes de Gascogne are the best places to grow it.